Article Post
May 22 2023
by  Bethanie Pagel
How to Integrate Science into English Language Arts Using DK Books
In the world of education, we know that teachers are encouraged to integrate different subjects when teaching core content in the classroom. As teachers, we can combine art with math by showing students how to use a ruler to measure their artwork or incorporate science with writing by having students write about a science experiment. DK's books make the process of integrating science into English Language Arts (ELA) both seamless and smooth for teachers. In my third-grade classroom, I have discovered many ways to integrate DK's science books into the required ELA curriculum. In third grade, some important ELA standards involve reading about scientific ideas or concepts in an informational text and using text features to locate information. This year, we have used several of DK's science books to help students engage in learning grade-level content, as well as master their required ELA Standards.
Everything You Need to Know About Frogs and Other Slippery Creatures
Everything You Need to Know About Frogs is an engaging text that is perfect for combining the standard of using text features when reading a nonfiction, scientific text. To begin our unit on informational text, I passed out the book to each student and gave them five minutes to look through it. The room was filled with excitement and comments such as, "What's an axolotl?", "Check out this poisonous snake!", "Wow, look at this page!", "This is the coolest frog I've ever seen!", and "Can we have five more minutes to look at the book?"
Students were immediately engaged, entertained, and excited to learn. The book was so interesting to the students that they hardly even realized they were getting their minds ready to learn an essential ELA standard. We then discussed text features such as heading, title, caption, photograph, bold word, diagram, and graph. After defining each type of text feature, students went on a "Text Feature Scavenger Hunt" during which they looked through the book and completed a worksheet. I assigned them to give an example of different text features that could be found in the book and record the page number on which it was located. Students enjoyed the challenge, and Everything You Need to Know About Frogs had many examples of text features to choose from on almost any of its pages.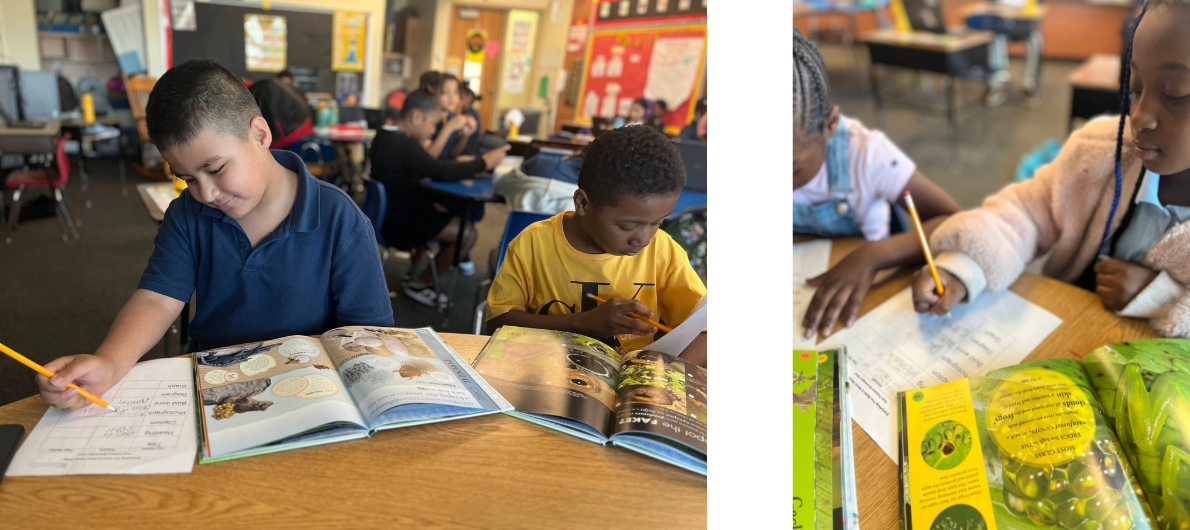 3rd graders complete the text feature scavenger hunt assignment
Later that day, we used the book for our science lesson. One of our third-grade science standards involves the life cycle of animals, and this book helped to seamlessly integrate reading into our science lesson. Incorporating the informational text lesson from ELA that morning, I instructed students to use the table of contents to find the page about the life cycle of frogs. Students were able to quickly turn to the correct page and start reading about it.
After students read those pages, I prompted them to discuss the different text features they identified earlier in the day. The pages contain plenty of clear pictures showing each stage in a frog's life cycle, which were an essential part of helping students understand and recognize all of its stages. After reading and discussing it, students broke into small groups and created posters using information they learned and the book to guide them in spelling out more difficult words and drawing pictures. Finally, I had the students share their posters with the rest of the class.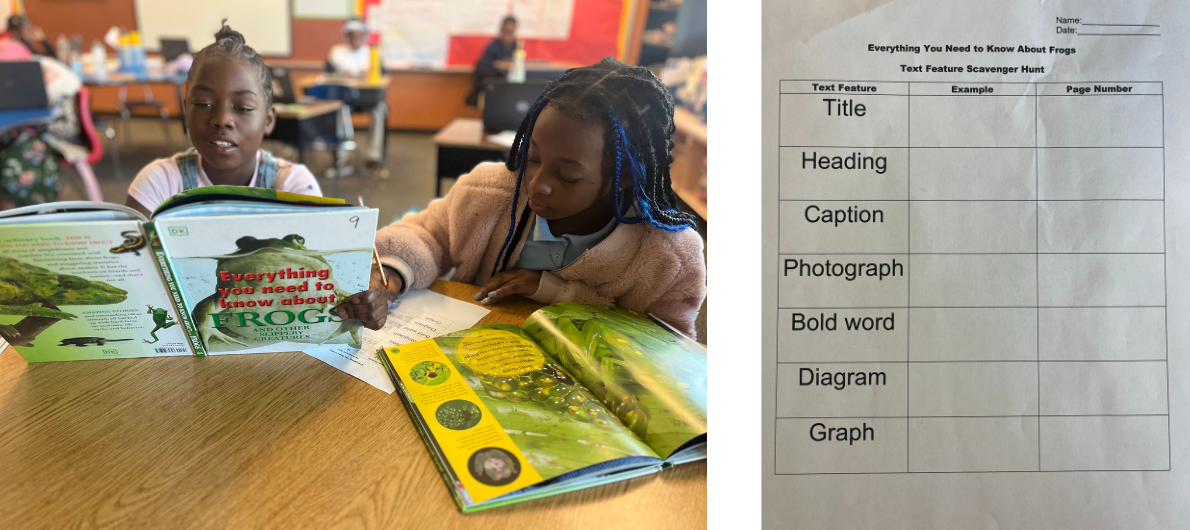 Students work together to locate text features in Everything You Need to Know About Frogs.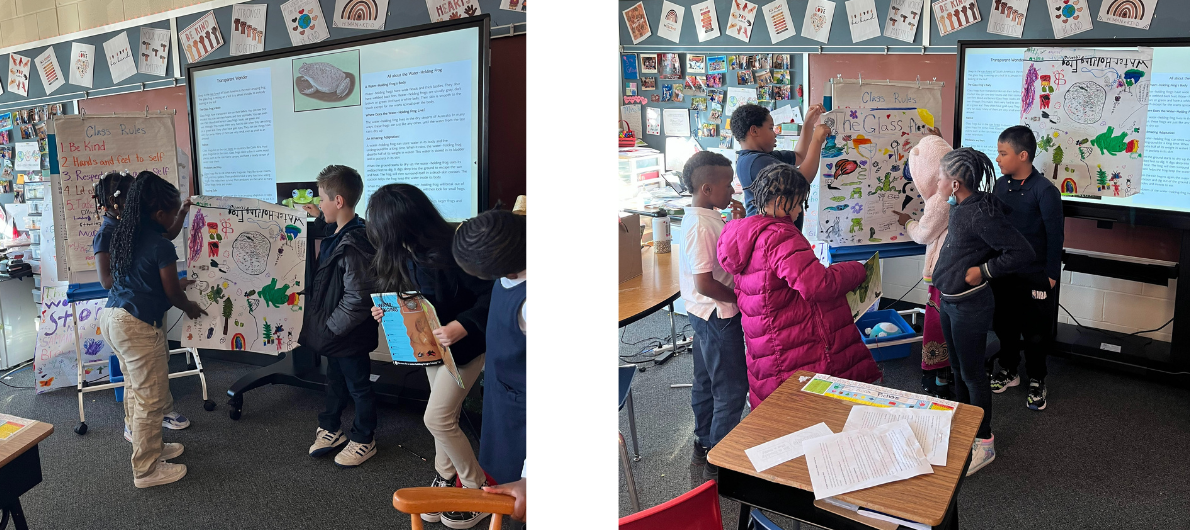 Groups present their posters on the life cycle of the frog.

Mammoth Science and Ask a Scientist
Two additional DK books that are helpful for integrating science and ELA are Mammoth Science and Ask a Scientist. Mammoth Science has sections about matter, life, energy, forces, earth, and space. The book also contains many descriptive visuals and text features that help the reader understand the science concept.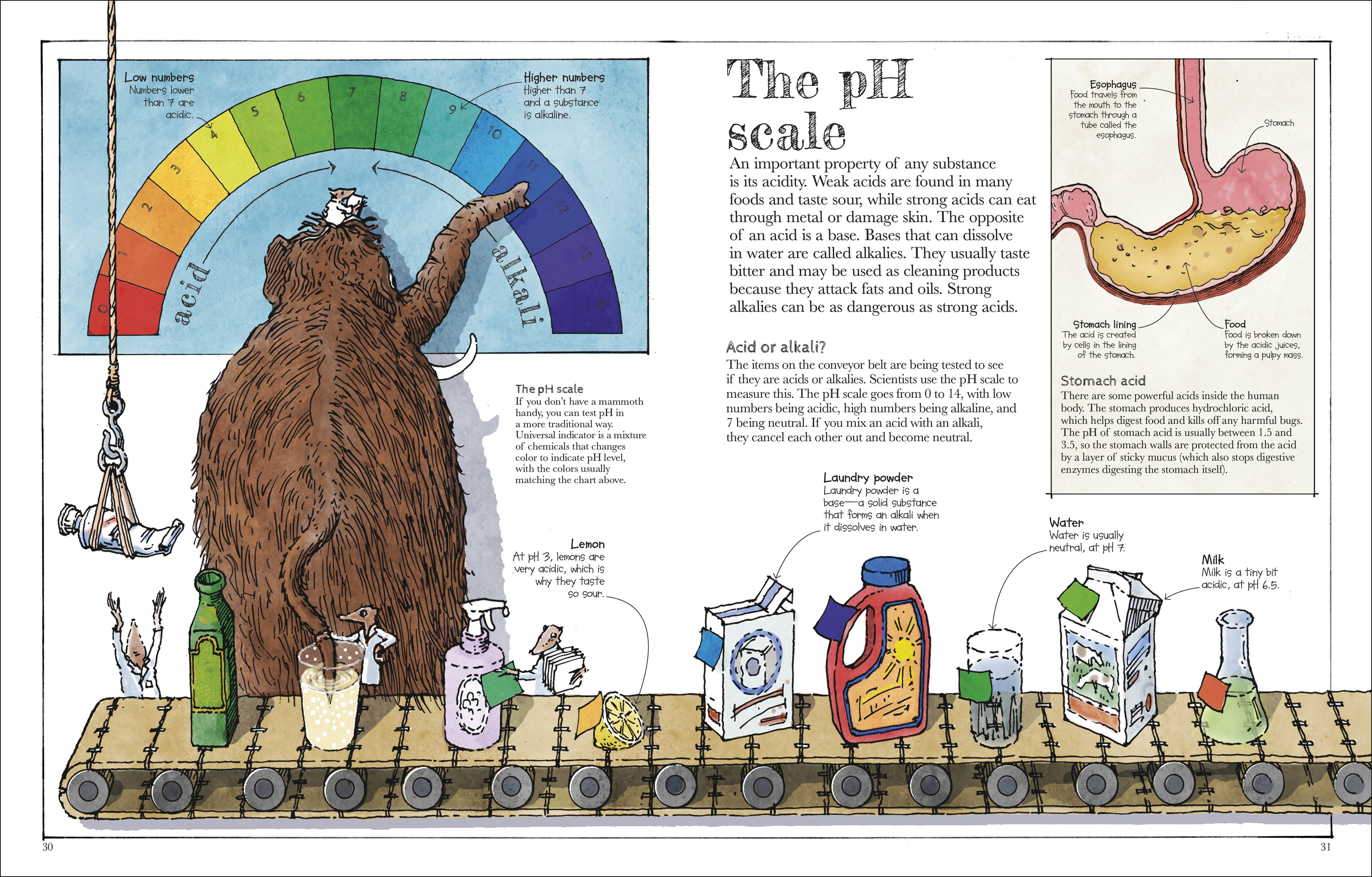 Ask a Scientist features topics such as chemistry, the human body, physics, natural science, Earth, and space. In this book, the author Robert Winston attempts to answer common questions about science that he has been asked by young students over the years. The headings on each page are all formatted as questions, and the text and photographs on each page are dedicated to answering the question from the heading, making it fun and accessible for students. Both of these books help students stay engaged in their science and ELA lessons and encourage them to use reading to discover the answers to their questions.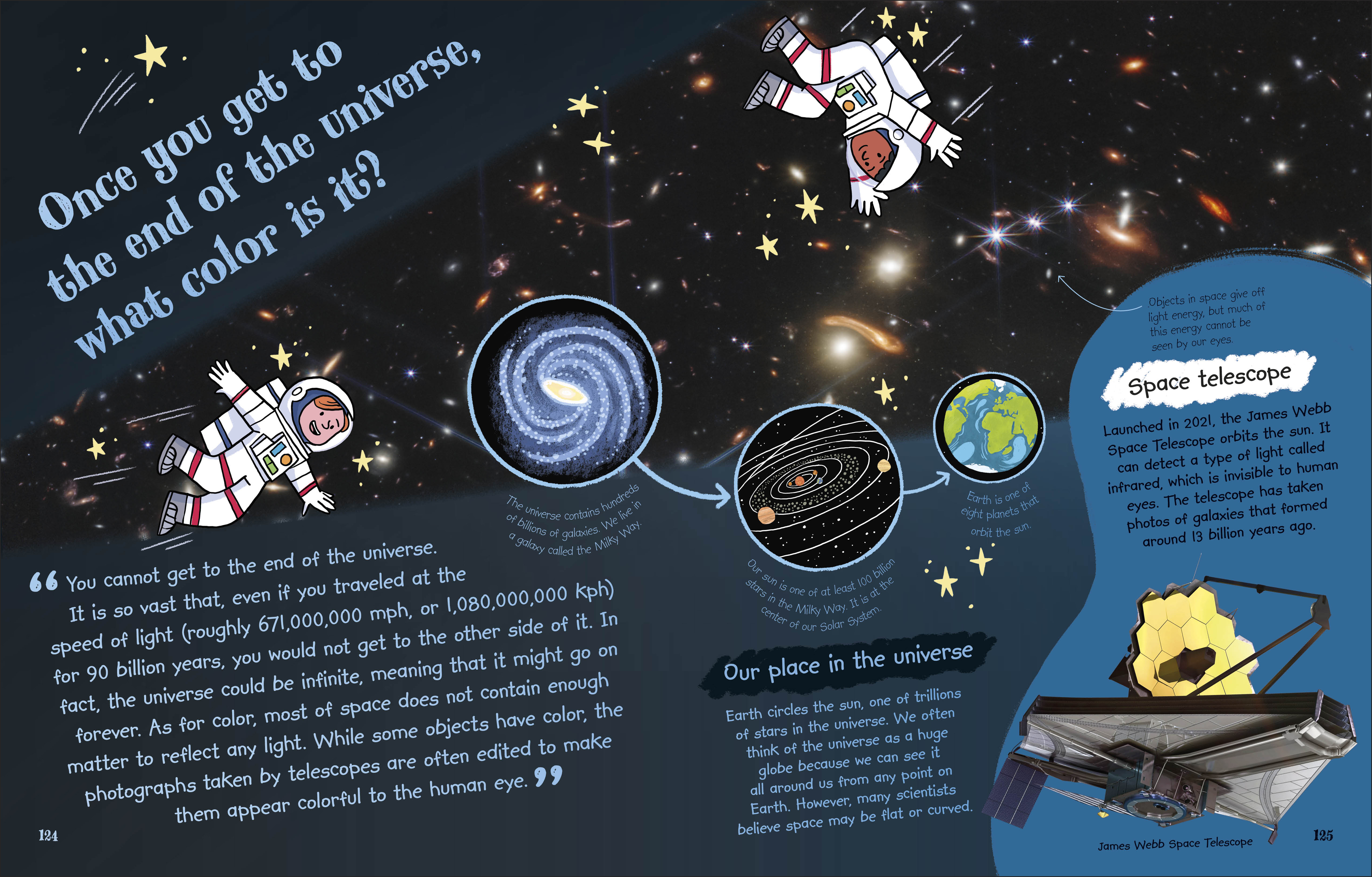 Sign up to a FREE DK Learning account to access recommended books, teaching resources, and more