Eyewitness: Climate Change Lesson Plan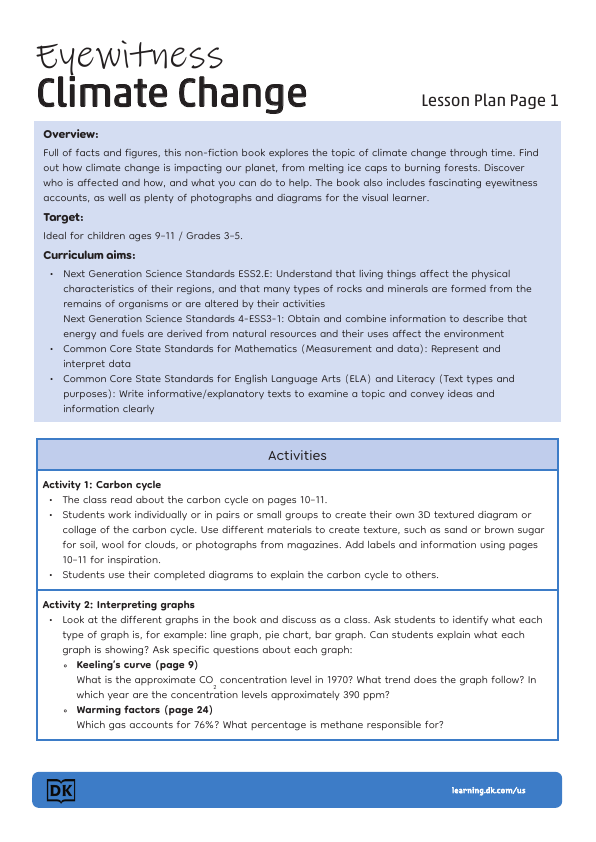 Grades
Subjects
ELA (English Language Arts)
About Eyewitness: Climate Change Lesson Plan
Grades 3–5 Lesson Plan. Teach your class about how climate change is impacting our planet, from melting ice caps to burning forests. Discover who is affected and how, and what they can do to help.
Curriculum aims:
Next Generation Science Standards ESS2.E: Understand that living things affect the physical characteristics of their regions, and that many types of rocks and minerals are formed from the remains of organisms or are altered by their activities

Next Generation Science Standards 4-ESS3-1: Obtain and combine information to describe that energy and fuels are derived from natural resources and their uses aff ect the environment

Common Core State Standards for Mathematics (Measurement and data): Represent and interpret data

Common Core State Standards for English Language Arts (ELA) and Literacy (Text types and purposes): Write informative/explanatory texts to examine a topic and convey ideas and information clearly.
Related products and resources
Sign up to a FREE DK Learning account to access recommended books, teaching resources, and more