Track Your Nonfiction Skills Activity Sheet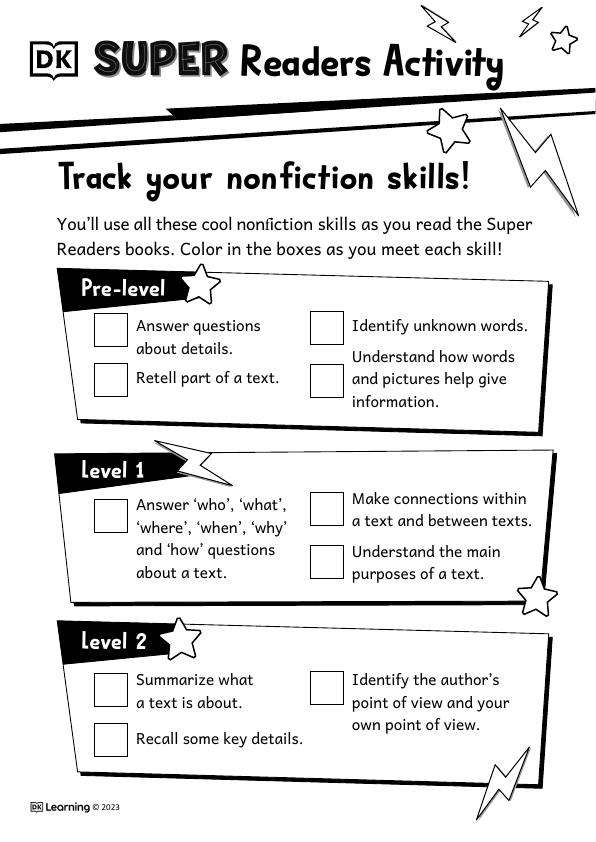 About Track Your Nonfiction Skills Activity Sheet
Download our fantastic Track Your Non-fiction Skills activity sheet, designed to make learning a fun-filled journey for your young readers. As they immerse themselves in the captivating world of DK Super Readers, they'll unlock a world of valuable skills to explore and master.
This user-friendly tracker offers an interactive way for your students to monitor their progress. With just a box of colorful markers in hand, they'll experience the joy of coloring in each box as they acquire new nonfiction skills. It's a wonderful visual representation of their accomplishments!
Our carefully selected range of skills empowers them to develop their nonfiction reading abilities. From understanding new vocabulary to recognizing text features, from extracting key information to making meaningful connections, these skills will come to life as they work their way through the levels. As children color in box after box, their skills will blossom, boosting their confidence along the way.
Related products and resources
Sign up to a FREE DK Learning account to access recommended books, teaching resources, and more